The National Youth Science Foundation has a long-standing relationship with the Green Bank Observatory through its programs, including the National Youth Science Camp, the West Virginia Governor's School for Mathematics and Science, and the West Virginia Youth Science Camp. If you have fond memories of your time at the GBO, please take a few minutes and read the following.
… — …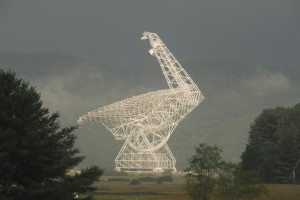 On November 9, 2016 the National Science Foundation held two public scoping meetings as part of the public comment period for a planned environmental impact statement and proposed changes to Green Bank Observatory operations.
The public scoping meetings have concluded, however, interested parties and individuals can still make an impact. Follow the instructions below to send a letter or email to the National Science Foundation.
The purpose of the public scoping process is to determine relevant issues that will influence the scope of the environmental impact statement analysis, including identifying viable alternatives for the Green Bank Observatory's operations.
Alternatives to be evaluated in the EIS will be refined through public input, with preliminary proposed alternatives that include the following:
Continued NSF investment for science-focused operations (No-Action Alternative)
Collaboration with interested parties for science- and education-focused operations with reduced NSF-funded scope
Collaboration with interested parties for operation as a technology and education park
Mothballing of facilities (suspension of operations in a manner such that operations could resume efficiently at some future date)
Deconstruction and site restoration
By this notice, NSF announces the beginning of the scoping process to solicit public comments and identify issues to be analyzed in the EIS.
Information about the Green Bank Observatory can be found at http://greenbankobservatory.org, and information about the GBO community and educational programs is given on the GBO About page. Information about the NSF funded "open skies" science on the GBT is available at http://greenbankobservatory.org/science/nsf-open-skies/.
Public comments can be sent to the National Science Foundation at the following address. For GBO records, they would appreciate receiving copies of any comments sent to the NSF. The GBO email address is included in the e-mail option below and the GBO mailing address is also below. Written comments must be received on or before November 25, 2016.
You may submit written comments by either of the following methods:
Send an email: envcomp-AST-greenbank@nsf.gov with cc to eis@gbobservatory.org. The subject should read "Green Bank Observatory" or
Mail to:
Elizabeth Pentecost
RE: Green Bank Observatory
National Science Foundation
4201 Wilson Blvd.
Suite 1045
Arlington, VA 22230
Copy to:
Director
Green Bank Observatory
PO Box 2
Green Bank, WV 24944
The full Notice of Intent from the Federal Register is also available online.