Get ready to flex your mental muscles again in our second annual BRITE Challenge! Join us for this creative thinking event celebrating young STEAM leaders as we are "Bringing Rural Imagination to Technology and Entrepreneurship!"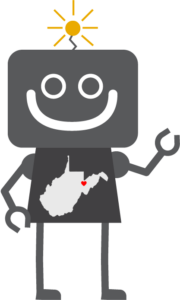 This event will showcase the best and brightest ideas generated by local West Virginia students as part of our ongoing MakerSpace project where students will interact with judges about their projects and prizes will be awarded.
Last year, our MakerSpace project provided maker equipment such as 3D printers, CNC routers, drones, coding robots, and renewable energy demonstration kits to schools and libraries in Grant, Hardy, Hampshire, Mineral, Pendelton, and Tucker counties. However, any West Virginia teacher is encouraged to register their class to showcase their students' hard work!
A keynote speaker will inspire the students and a panel of expert judges will provide feedback on projects, ultimately selecting a grand prize-winning classroom, but no one will go home empty-handed. Fun swag and prizes will be distributed, featuring the event's mascot the BRITEbot. Students, educators, and administrators are all invited to attend. The event is free (but registration is required) and lunch will be provided.
Who: 5th-12th Grade Students and Educators
When: May 12th, 2023 (Add to your calendar)
Where: Davis Campus of the National Youth Science Academy (494 Riverstone Rd, Davis, WV, 26260) Get Directions
Students will create a business idea, invention, or other fascinating project using STEAM innovation, technology, and creativity to address a local issue or problem with rural innovation.
More information will be made available soon, until then, mark your calendars, and contact Ryan Haupt with any questions.