The 2024 National Youth Science Camp (NYSCamp) applications are now open for U.S. delegates and select international delegates in the Western Hemisphere. For more details on the 2024 NYSCamp, click here; to go straight to the application page, click here.
If you would like to nominate a high school junior or senior in the U.S. to apply for the 2024 NYSCamp, you can submit a nomination here.
Overview
Hosted in Monongahela National Forest in West Virginia since 1963, the National Youth Science Camp (NYSCamp) is a residential science, technology, engineering, arts, and mathematics (STEAM) program designed to honor and challenge some of the nation's rising leaders and provide them with opportunities to engage with STEAM professionals and participate in exciting outdoor activities. Typically, two delegates are selected to attend camp from each state and the District of Columbia. In partnership with the U.S. State Department, we also host international delegates. Past countries represented include Argentina, Bolivia, Brazil, Canada, Chile, Costa Rica, Ecuador, Germany, Japan, Mexico, and Trinidad and Tobago. Housing, meals, transportation, and supplies are provided to participants at no cost.
NYSCamp Programming
NYSCamp delegates are encouraged to live in the moment rather than constantly focusing on what comes next. This philosophy permits the staph* to plan numerous special events that surprise the participants and encourages the delegates to give undistracted attention to programming. The NYSCamp does not, therefore, publish detailed program calendars of events. Please find an example of a daily schedule here. We do, however, focus on seven main program areas:
A centerpiece and highlight of the camp is the lecture series. Each day delegates participate in two world-class lectures by STEM experts on a wide range of innovative and relevant topics. Speakers are selected from among prestigious and up-and-coming STEM professionals who are making a difference in their fields of study and changing the world for good.
Directed studies provide opportunities to delve deeper into a topic with an expert. They are designed as mini-courses. One of the keystones of directed studies is a small facilitator to delegate ratio, which allows for deeper learning, discussions, conversations, and mentorship.
We also hire dedicated staph* for our STEAM programming in physical, natural, and computer sciences.
For a bit more fun, seminars are informal interactive experiences with someone who is knowledgeable and passionate about a topic. Past seminars have included juggling, cooking, practicing a language, and playing Ultimate Frisbee on the green.
The mountains of West Virginia are a perfect location for our outdoor adventure program. Guided by experienced outdoor staph*, delegates have ample opportunities to hike, backpack, rock climb, and go caving, kayaking, or biking during camp. All delegates also participate in overnighters with various levels of physical challenge.
While NYSCamp provides many opportunities for delegates to engage with STEAM topics, we also have a robust arts program. Staph* provides delegates with many opportunities to learn techniques and create in multiple art mediums and join performing arts ensembles.
The delegations also travel to Washington, DC where they can meet congressional members, tour museums, and attend a panel discussion held at the American Association for the Advancement of Science.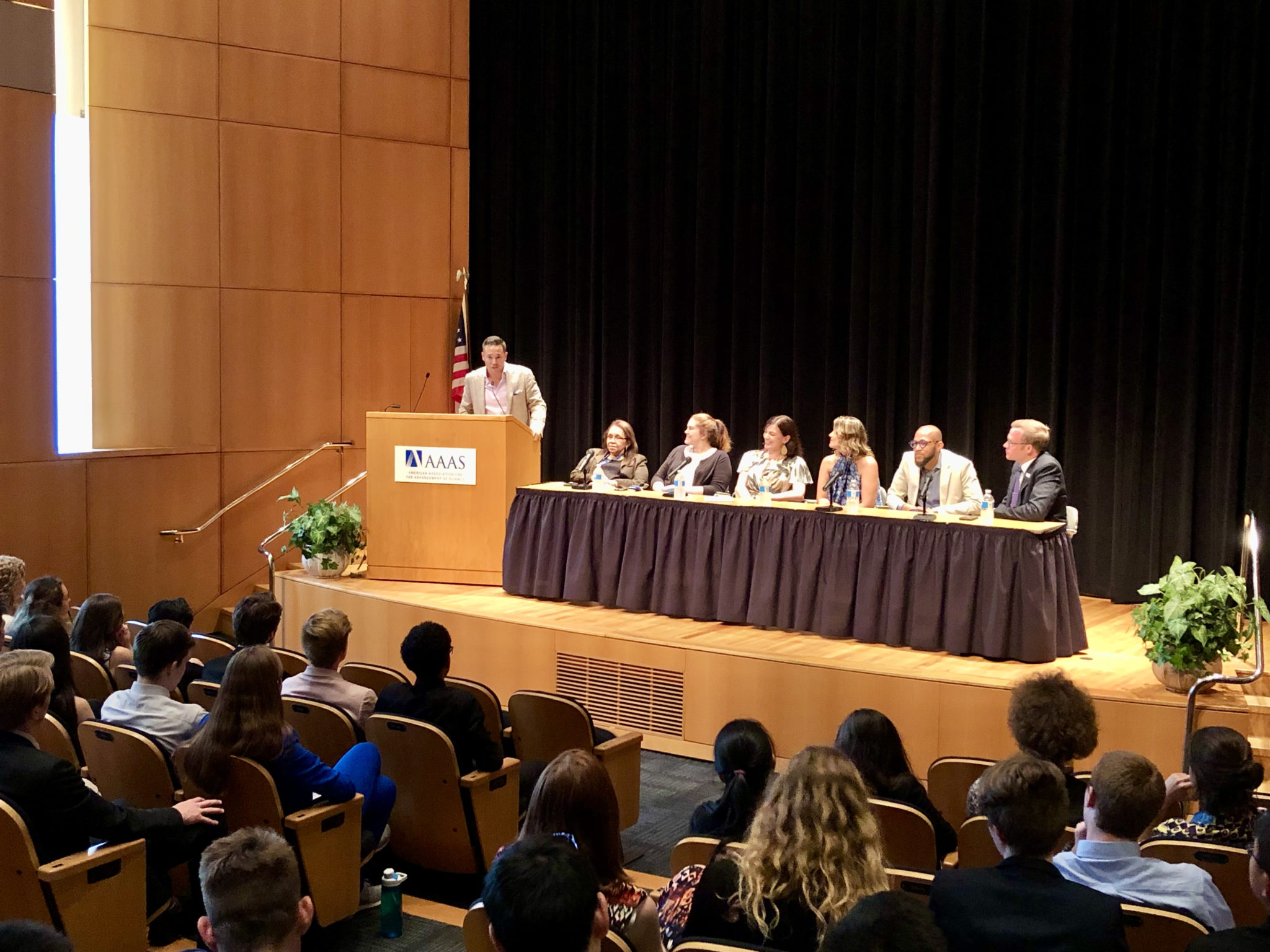 NYSCamp Goals
Inspire lifelong engagement and ethical leadership in science, technology, engineering, mathematics, and related fields among delegates with recognized high potential for follow-through and success.
Provide engaging learning opportunities in science, technology, engineering, mathematics, and related professions that extend and enhance the traditional K-12 school curriculum.
Develop a robust network among delegates, members of the program staph*, and science, technology, engineering, and mathematics professionals reinforced through community and shared experiences.
Encourage participants to pursue careers in science, technology, engineering, mathematics, arts, and related professions through increased awareness and understanding of current education, research, and career opportunities.
Create a safe environment for expanding delegates' comfort zones with scientific and cultural aspects of the natural world through outdoor adventure activities.
NYSCamp Impact
More than 99% of NYSCamp alumni receive at least a bachelor's degree.
More than 50% of NYSCamp alumni receive a doctorate.
More than 85% of NYSCamp alumni are working in a STEM field.
Nearly 60% of NYSCamp alumni report that the NYSCamp influenced their career choice.
Past NYSCamp Presenters
Throughout NYSCamp history many notable STEM professionals have presented at camp. These include TV personality and astrophysicist Neil deGrasse Tyson, Apollo astronaut Neil Armstrong, the first man to walk on the moon, mathematician and Nobel laureate John Nash, subject of the film "A Beautiful Mind," General Chuck Yeager, the first man to go faster than the speed of sound, Francis Collins, head of the Human Genome Project and current director of the National Institutes of Health, Julie Robinson, Chief Scientist for Human Exploration and Operations at NASA, Marissa Mayer, former president and CEO of Yahoo!, and David Hackleman, inventor of the ink for HP's inkjet printer. Learn more about our rich history at NYSCamp here.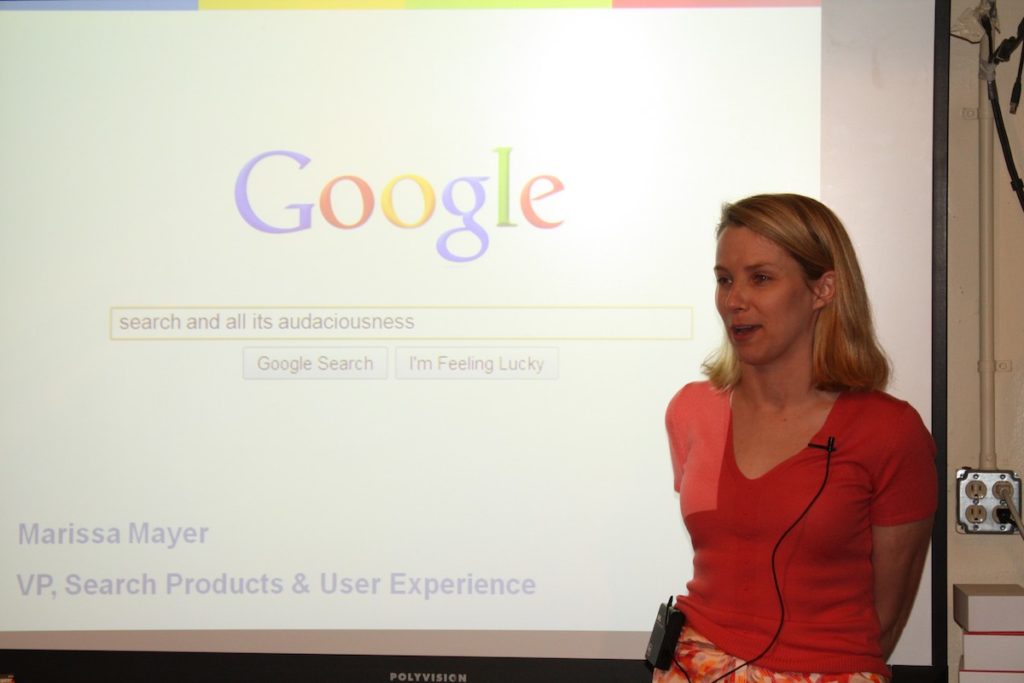 Prominent NYSCamp Alumni
Over this half-century, five thousand ambitious, young, innovative students have spent their summer between high school and college in the mountains of West Virginia. Notable alumni, in current or previous positions, include:
---
* Not misspelled; this is a traditional NYSCamp spelling to highlight their infectious enthusiasm