In Memoriam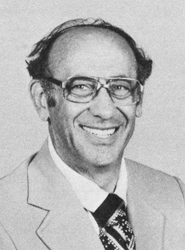 Isidore Adler was born in Brooklyn, NY on 25 December, 1916 and married Annie in 1941. He obtained his AB from Brooklyn College in 1942, BS from NYU 1944, MS and Ph.D. from the Polytechnic Institute of Brooklyn in 1947 and 1952 respectively. He worked for the US Customs lab and the US Signal Corps during 1937 through 1952, attaining 1st. Lt. rank. He then went to the US Geological Survey for 12 years. In the 60's, the US Space program was beginning to become very promising. Izzy then became a project leader and then a Senior Scientist with NASA in 1964. Izzy attained a PhD in Physical Chemistry. He also had a degree in Metrology. During WWII, Izzy was a meteorologist with a bombing group in Italy during WWII. He was a senior scientist with NASA during the entire Apollo (Moon) program and was one of the selected people throughout the world to analyze the first "moon rocks". He sent experiments with the Apollo 15 and 16 which for the first time in mankind's history did a chemical analysis of the back of the Moon. By the way, this is a picture of Izzy at camp in 1978 after his lecture on the exploration of the Moon.
Izzy wrote and published three books:
X-Ray Emission Spectrography in Geology – Methods in Geochemistry and Geophysics (1966, Elsevier)
Physics and Chemistry in Space: Geochemical Exploration of the Moon and Planets (Springer-Verlag)
The Analysis of Extraterrestrial Materials (1986, John Wiley & Sons)
Izzy published roughly 100 scientific articles over his career, was recipient of many awards for his scientific accomplishments, acted as and associate editor on two scientific jounals, a tour lecturer for the American Chemical Society as well as numerous invited lectures, Faculty member at the Institute on Man and Science and a Visiting lecturer/resident at the National Youth Science Camp.
Izzy loved teaching and being with young people. The University of Maryland offered him a full professorship with Tenure after the moon landing. Izzy assumed the position of Head of the Geochemistry Division. He retired from NASA and then spent thirteen years imparting his knowledge, humor, and ideologies to his adoring and eager students. The Public Television Series "The World of Chemistry" was directed by Izzy. With a team of distinguished scientists, it was funded by the Annenberg Foundation at the University of Maryland. It first aired in September of 1990, only six months after he succumbed on 26 March, 1990 to the cancer diagnosed four and a half years earlier as terminal within two years. All the income from the sales of this series goes to U. of Md. and the Annenberg Foundation.