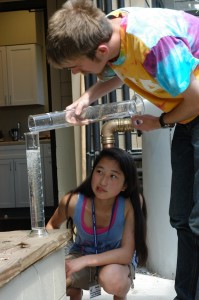 Davis WV – Students belonging to the second cohort of the Youth Science Discovery Experience presented their research yesterday, successfully concluding the spring semester of YSDE 2012.  Five student groups presented, delivering diverse talks on wind power engineering, raptor migration, greenhouse evapotranspiration, microbiology, and compostable products. The students presented their work to a crowd including both friends and family, as well as scientists working in the Canaan Valley area and representatives from the National Youth Science Foundation.
This research colloquium marks the culmination of a semester's work researching these topics.  By participating in the YSDE program, students had the opportunity to join their peers and instructors at three research weekends conducted at the Canaan Valley Institute.  While there they met with the resident scientists of CVI who guided their projects, and acted as mentors for further research.
Spring semester YSDE 2012 also included several activities for non-academic pursuits.  The students embarked on an overnight camping trip earlier in the weekend, and during the course of the semester had the opportunity to choose from over 30 shorter seminars including mountain biking, hiking and trips to local landmarks.
If you would like to know more about YSDE, please visit the YSDE program page. To see more photos, as well as updates from the program, visit the 2012 YSDE website.