CHARLESTON, WV — The 2013 session of the National Youth Science Camp starts today as delegates arrive at Charleston's Yeager Airport and begin their nearly month-long experience with science enrichment. The students, two from each state in the United States and international delegates from nine countries, will study with preeminent scientists from around the world, who will discuss current topics in science and other disciplines and have ample opportunity for informal interaction with students attending the NYSC.
The program is held at Camp Pocahontas in Pocahontas County. In addition to STEM lectures and directed studies, delegates will participant in back-packing, rock climbing, mountain biking, and kayaking, and other outdoor adventures.
This is the NYSC's 50th anniversary; it has challenged and honored over 5,000 participants since its inception. The program was started in 1963 as part of West Virginia's Centennial. It was operated by the State of West Virginia without private funding until 1983. At that time, the National Youth Science Foundation (NYSF) was formed to plan, raise financial support for, and oversee the operation of the NYSC.  The NYSC has been cited by alumni who are now leaders in science and tech as having made a major impact on their careers.
The first official event of the 2013 NYSC will be the Martha Wehrle Opening Lecture at 7:30 tonight in The Walker Theater at The Clay Center.  Featured speaker, Dr. Paul Miller, former delegate and director of NYSC and current physics professor at WVU, will address the impact of science and technology on everyday life. Specifically, he will focus on how technology, medicine, and gadgets are often used freely without much thought to the scientific fundamentals that govern how these gadgets work. His lecture will also serve as a welcome to the delegates of the 2013 National Youth Science Camp and an invitation to explore everything science has to offer.
Before the delegates leave Charleston and head to camp, they will also have the opportunity to tour the laboratories of the Mid-Atlantic Technology, Research, & Innovation Center (MATRIC) as well as tour the science labs in Kanawha Valley Community Technical College.
Follow the activity on Twitter @NYSCdotORG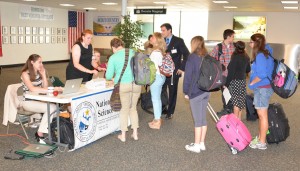 Delegate Fly-In Interviews