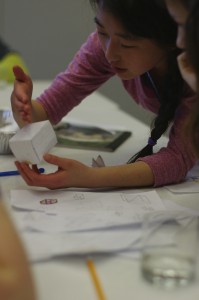 Students at the 2012 Youth Science Discovery Experience test their logic and reasoning skills during a whole group activity.  Students at YSDE work on small group research projects, which are supplemented by a variety of other engaging activities and lectures. At the end of the YSDE program, students present their research findings to their teachers, mentors and colleagues in a research colloquium.
The final weekend of the first cohort of YSDE 2012 is currently in session.  To see updates and photos from YSDE 2012, please visit the program site. Students will be presenting their research shortly, and we'll be adding photos frequently, so check back often to see their findings.
From the Archives is a reoccurring post that dives back into the archives of National Youth Science Foundation programs.