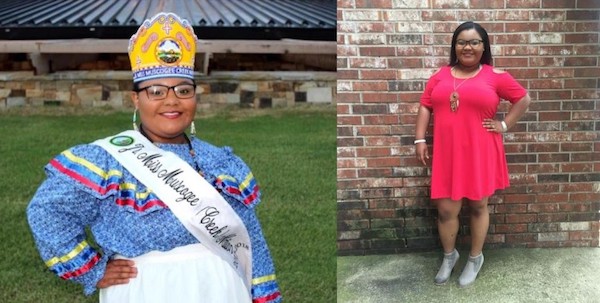 Iesha-LaShay Kelena Phillips
Oklahoma
City:  Jenks, OK
School:  Jenks High School
College Plans:  Oberlin College
Major:  Anthropology, Law and Society or African Studies on a Pre-Med track
Professional Plans:  Physician (specifically, Trauma Surgeon) or Gynecologic Oncologist
Honors:  Mu Alpha Theta Honors: Oklahoma Indian Student Honor Society, National Honor Society, Spanish Honor Society, American Indian Science and Engineering Society, Mvskoke Women's Leadership High School Student of the Year, QuestBridge National College Match Finalist: matched to Oberlin College with a full-ride scholarship, Yale Bassett Award for Community Engagement, Jenks NAE (Native American Education) Junior of the Year, went to Mock Trial Nationals, received a key to the city of Tulsa, OK for addressing societal issues and bettering the city, Mayor Bynum also declared June 27th "Iesha Phillips Day" in Tulsa, Oklahoma.
Activities:  Pre-Med Society (President), Mock Trial (Captain), 2017-18 Jr. Miss Muscogee (Creek) Nation, Mvskoke Nation Youth Council, WeRNative Ambassador, Black Student Union, For Girls Becoming Internship (Basket Weaver), National Institutes of Health summer research student, New Hope Oklahoma (Counselor).
Iesha has a wide range of interests which include protesting, watching online surgeries, basket weaving, learning more about Mvskoke culture and eating and traveling.
We look forward to meeting you at this year's 2018 National Youth Science Camp, Iesha!